La Fiocco
AT HOME AT LAUREL HILL:
MUSIC OF LONDON & PHILADELPHIA, c. 1700-1800
Lewis R Baratz, harpsichord, Elissa Wagman, baroque violin, Lynn Fergusson, Viola da gamba, Rebecca Stuhr, Baroque Ÿlute

Sunday, August 24, 2014 starting at 6:30 P.M.
Genteel Society of Georgian London

Trio Sonata in B Minor, Opus 2, No. 1 .........................George Frideric Handel (1685-1759)
Andante
Allegro mà non troppo
Siciliana
Allegro

Sonata VIII in E minor for Violin & Continuo ............................Arcangelo Corelli (1653-1713)
Largo
Allamanda
Sarabande
Gigue

Sonata in G Major for Flute and Continuo, Op 1, No. 5 .........................G. F. Handel
Adagio
Allegro
Adagio
Bourrée
Menuetto

Lesson in F Major for Harpsichord .........................William Felton (1715-1769)
AndanteWilliam Felton (1715-1769)
Allegro moderato
Larghetto
Allegro assai

Trio Sonata in G Major, Op 3. No. 2 (1757) .........................Thomas Arne (1710-1778)
Largo
Con Spirito
Largo
Allegro

Interval

Trio Sonata I in A minor (1747) .........................William Boyce (1711-1779)
Largo
Fuga – Allegro
Allegro ma non troppo

Piano Trio Hob. XV:36 in Eb Major .........................Joseph Haydn (1732-1809)
Allegro moderato
Polones
Finale: Allegro molto

Music in Federal Era Philadelphia*

Washington's March at the Battle of Trenton
The Tartan Plaidde (from the James Calvert Anthology)
Ap Shenkin, A Popular Air
Jefferson's March, Philadelphia, March 4, 1801

*With many thanks to John H. Burkhalter III of Princeton, New Jersey his kind permission to study and perform music from his private collection of 18th- and early 19th-century printed music.
LA FIOCCO
Rebecca Stuhr, baroque flute
Elissa Wagman, baroque violin
Lynn Fergusson, baroque cello
Lewis R. Baratz, harpsichord & fortepiano

LA FIOCCO, based in Bucks County, Pennsylvania, is earning national attention as a period instrument ensemble that specializes in performing music of the 17th and 18th centuries. La Fiocco's regular concert series is based in Solebury PA. La Fiocco recently performed in at New Brunswick's Crossroad's Theater in a celebration of the 350th anniversary of the founding of New Jersey, with a program that traced the settlers from the early 17th century through the American Revolution, and made its New York City debut in May 2014. La Fiocco is a Commonwealth of Pennsylvania not-for-profit organization. For upcoming concerts and more information on the ensemble, visit www.lafiocco.org.

Lewis R. Baratz is La Fiocco's founder, artistic director, harpsichordist, and primary recorder player. He holds a Ph.D. in musicology from Case Western Reserve University and performance degrees from SUNY Buffalo and Southern Methodist University. Baratz authored over 20 articles on a wide range of musicological topics, including 15th-century dance music, 17th-century Roman keyboard music, biographical, archival, and manuscript studies, basso continuo, and the choirboys of the Brussels Collegiate Church of SS Michael and Gudula, ca. 1550 to 1793, and has contributed more than a dozen entries to The New Grove Dictionary of Music. He was a Fulbright Scholar and Fellow of the Belgian American Educational Foundation. Performances with Ars Musica, MidAtlantic Opera Company, New Brunswick Chamber Orchestra, Bethlehem Baroque, Biber Baroque, Ensemble Impromptu,, Le Triomphe de l'amour, PA Sinfonia, Virtuosi de seicento, and VOICES as harpsichordist and consultant. He was Adjunct Associate Professor at Mercer County Community College and is currently a Board member of Early Music America.

Lynn Fergusson spent 30 years living and working in Switzerland. She holds a degree in baroque performance practice from the Schola Cantorum in Basel, with a major in viola da gamba and minor in baroque cello. She has concertized as soloist and chamber/orchestral musician with numerous early music ensembles throughout Europe, and founded her own viol consort, Chelyos. Lynn was also active as choir conductor, teacher, and ensemble coach. In 2005 Lynn returned to the United States and now lives in Yardley, Pennsylvania. Her credits include performances with Tempesta di Mare, Washington Bach Consort, the Dryden Ensemble, Le triomphe de l'amour, and as a core artist of La Fiocco.

Rebecca Stuhr has three recordings with Centaur Records and a solo album on her own Lebende Music label. Rebecca recently moved to Philadelphia and is Coordinator for the Humanities at the Van Pelt Library at the University of Pennsylvania. She has performed on baroque flute with La Fiocco, the Kansas City Early Music Consort, and Basically Baroque. On modern flute, her repertoire comprises a wide range of music from the 20th century, concentrating on French music for flute and piano and flute and guitar. With the duo ensemble New House, she performs American and Celtic folk music.

Baroque violinist Elissa Wagman is a member of Tempesta di Mare Philadelphia Baroque Orchestra, with which she has recorded several CDs on the Chandos label and toured in the US and Germany. She has performed with Triomphe de L'amour, Brandywine Baroque, Handel Choir of Baltimore, and many other period ensembles. As a modern violinist, Elissa is a member of the Delaware Symphony and frequently performs with the Philly Pops and the orchestra of the Pennsylvania Ballet. She studied baroque and modern violin at Oberlin Conservatory with Marilyn McDonald, and holds a bachelor's degree in violin performance from Rice University and a master's degree and performer's certificate from the Eastman School of Music.

SOLD OUT
PAST 2014 CONCERTS
Classical Guitarist Allen Krantz at Laurel Hill Mansion
Sunday, August 10, 2014 starting at 6:30 PM.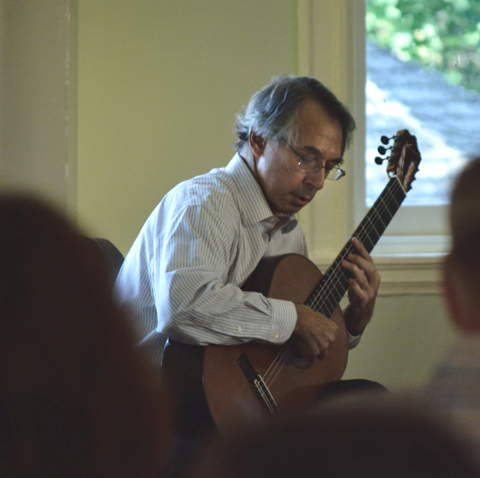 Paduana…………………………………………..…....….................Esaias Reusner (1636-1679)
tr. Allen Krantz

Suite XI in E mi……………………………………………..Dieterich Buxtehude (1637-1707)
tr. Allen Krantz
Allemande
Courante
Sarabande
Gigue

12 Landler, D. 790………………………………………………….Franz Schubert (1797-1828)
tr. Allen Krantz

INTERMISSION

10 Waltzes, op.39…………………………………………………Johannes Brahms (1833-1897)
tr. Allen Krantz

10 Preludes………………………….……………………………Francisco Tarrega (1852-1909)

ALLEN KRANTZ, a graduate of the San Francisco Conservatory and Stanford University, has received acclaim as a solo guitarist and chamber musician and composer. His performances throughout the United States have included appearances at Carnegie Hall, Saratoga Performing Arts Center and the Phillips Collection in Washington, with his diverse programs often featuring original compositions.

Recent compositions include "Marilyn Cycle", a setting of Marilyn Monroe's poetry for voice, clarinet, cello and piano commissioned by the Pennsylvania Music Teachers Association. "On the Road" and "Little Elegy" for voice and string quartet, were commissioned by Lyric Fest in Philadelphia. Other recent pieces are "Quartet for Piano and Strings", "Passacaglia" for trombone, guitar and piano, premiered by Joseph Alessi of the New York Philharmonic; "Three Pieces for Chamber Orchestra", "Sacred Places" for solo guitar, and "American Document" commissioned by the Martha Graham Dance Company. "A Musical Walk", a children's piece was commissioned by the Philadelphia Orchestra, and "Under One Roof", a trio for trumpet violin and piano was written in celebration of the 125th anniversary of the Philadelphia Museum of Art.

Mr. Krantz heads the guitar program and teaches chamber music at Temple University. He also gives occasional courses on music history and is a lecturer for the Philadelphia Orchestra. Krantz has received support from the American Composers Forum, Meet the Composer, Chamber Music America, the Pennsylvania Council on the Arts, and the Philadelphia Cultural Alliance among others. Allen Krantz's compositions are published by the Theodore Presser Co. and Falls House Press. His solo and chamber music arrangements for guitar are published by International Music. Allen Krantz's recordings for the DTR label include "Notes" for flute and guitar with Mimi Stillman, "Summer Music", "The Romantic Guitar", and "The Philadelphia Connection". He has also recorded for Albany and Crystal Records labels.
Dolce Suono Ensemble at Laurel Hill Mansion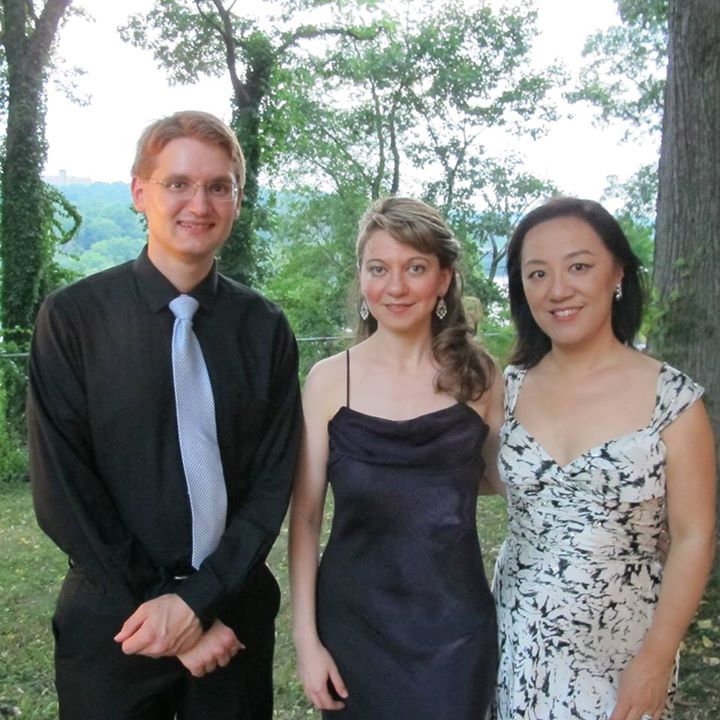 Gideon Whitehead, guitar, Mimi Stillman, flute, Misoon Ghim, mezzo-soprano
Sunday, July 13, 2014 starting at 6:30 p.m.
Une flûte invisible......... Camille Saint-Säens (1835-1921)
Ghim, Stillman, Whitehead

Flow My Tears........
Come Again........John Dowland (1563-1626)
Ghim, Whitehead

Huldah for Solo Flute........ Mimi Stillman (1982)
Stillman

"Nana" from Siete canciones populares españolas........ Manuel De Falla (1876-1946)

S'un di m'adora from Cantata Mi palpita il cor, HWV 132c........ George Handel (1685-1759)
Ghim, Stillman, Whitehead (arr. Whitehead)

Intermission

Canciones Sefarditas........ Manuel Valls (1920-1984)
Ghim, Stillman, Whitehead

Histoire du Tango........ Astor Piazzolla (1921-1992)
Bordel 1900
Café 1930
Nightclub 1960
Concert d'aujourd'hui
Stillman, Whitehead

Jennie with the Bonnie Blue E'e........ John C. Andrews
(arr. by Elizabeth Blessner)
Ghim, Stillman, Whitehead

"Dolce Suono Ensemble eloquently advocates for new music." –The New York Times
Dolce Suono Ensemble (DSE) has been dazzling audiences and invigorating the music world since its founding by flutist and Artistic Director Mimi Stillman in 2005. DSE presents highly acclaimed chamber music concerts on its Dolce Suono Ensemble Presents series in Philadelphia, performs on tour, commissions important new works, makes recordings, and does community engagement. Dolce Suono Ensemble's curatorial vision sets the music in its broadest cultural context, with repertoire spanning Baroque to new music. Many of Dolce Suono Ensemble's distinguished artists are fellow alumni of the Curtis Institute of Music. Dolce Suono Ensemble highlights include concerts at Symphony Space (New York), Cornell University, Bard College, Princeton University, and in partnership with the Washington National Opera Domingo-Cafritz Young Artist Program at the invitation of Plácido Domingo. DSE's "Música en tus Manos" (Music in Your Hands) outreach initiative with the Latino community of Philadelphia won the Philadelphia Knight Arts Challenge 2013. DSE's commissioning program has led to 32 world premieres in nine seasons, and its concerts and recordings have been broadcast on four continents. www.dolcesuono.com

Mimi Stillman, one of today's most celebrated flutists, has been hailed by The New York Times as "a consummate and charismatic performer" and The Washington Post as "a magically gifted flutist, a breath of fresh air." She has performed as soloist with orchestras including The Philadelphia Orchestra, Bach Collegium Stuttgart, and Orquesta Sinfónica de Yucatán, and as recitalist and chamber musician at venues including Carnegie Hall, The Kennedy Center, Philadelphia Chamber Music Society, Verbier Festival, Kingston Chamber Music Festival, Lake George Music Festival, and Israeli radio Kol HaMusica. At age 12, Ms. Stillman was the youngest wind player ever admitted to the Curtis Institute of Music, where she studied with Julius Baker and Jeffrey Khaner. A Yamaha Performing Artist, she was the youngest wind player ever to win Young Concert Artists, and won the Women in the Arts Award from Women for Greater Philadelphia. Ms. Stillman holds an MA in history from the University of Pennsylvania and is a published author on music and history. She has taught masterclasses internationally and is on faculty at Curtis Institute of Music Summerfest. She is Artistic and Executive Director of Dolce Suono Ensemble. www.mimistillman.org

Misoon Ghim has performed with New York City Opera and the Opera Company of Philadelphia as Suzuki in Madama Butterfly, with Opera Delaware as Rosina in Il barbiere di Siviglia, and with the Daegu International Opera Festival as Amneris in Aïda. Most recently she made her New York Weill Recital Hall Debut accompanied by pianist Amy Yang, presented by Korea Music Foundation. Ms. Ghim's all-Baroque debut album was released in South Korea by Universal Music Group Korea in 2012. She has worked with some of the world's leading conductors, including Christoph Eschenbach, Wolfgang Sawallisch, and Patrick Summers. Ms. Ghim is on the Voice Faculty at Curtis Institute of Music Summerfest. She holds a bachelor's degree from Seoul National University, and two master's degrees—from Curtis and the Juilliard School—as well as a D.M.A. from Temple University. She resides in Philadelphia with her husband and two children.

Classical guitarist Gideon Whitehead is quickly establishing himself as an outstanding and captivating artist. ClevelandClassical highlighted his ability to "bring out subtle inner details" and to "communicate directly with the listener". In June 2013, he celebrated the release of his debut album Russian Romance featuring rarely-played classical guitar music from Russia. Mr. Whitehead has performed solo recitals for many presenters including the Metropolitan Museum of Art in New York City. As a chamber musician, he has collaborated on numerous occasions with Philadelphia Orchestra Concertmaster David Kim. He holds a Bachelor of Music in guitar performance from the Cleveland Institute of Music and will complete his Artist Diploma at the Curtis Institute of Music in May, 2014.


MC3 Piano Trio
Elizabeth M. Guerriero, violin; Gael Abbasi, violoncello; Soh Lee, piano
Laurel Hill Mansion Recital
June 29th, 2014 starting at 6:30 p.m.
Duet for Violin and Cello…………F. J. Haydn
1. Poco Adagio
2. Tempo di menuetto (moderato)
3. Allegro


Sonata No. 5 in E-flat Major……………W.A. Mozart
1. Allegro
2. Rondo, Andante grazioso

Fantasia in C Major, Hob XVII/4……………….F. J. Haydn

Sonata I, BWV. 1027……………….J.S. Bach
1. Adagio
2. Allegro ma non tanto
3. Andante
4. Allegro moderato

Intermission

Trio in D Major for Violin, Cello, and Piano………F.J. Haydn
1. Allegro
2. Andante
3. Allegro, ma dolce

Trio in G Major for Violin, Cello, and Piano…….F. J. Haydn
1. Andante
2. Poco Adagio
3. Finale. Rondo all'Ongarese. Presto

Program Notes
Haydn's Fantasia in C major, Hob. XVII/4 was composed in 1789. It opens with delightful melody and develops into daring harmonies, clever modulations, cadenzas and virtuosic passages. The music dominated by the sprit of improvisation.

This work is based on an Austrian folksong, Do Bauren hat d'Katz valor'n (The Farmer's Wife Cannot Find the Cat), which provides the main melody material. The text, in which the farmer's wife tries to capture her elusive cat, itself serves as a basis for the piece. The hunting motifs, sudden changes in register, and raising chromatic scales are musical ideas that can be associated with the text.
Performer Bios MC3

Piano Trio was formed as an extension of the Montgomery County Community College Duo (Elizabeth Guerriero & Soh Lee). The group is comprised of Elizabeth Guerriero, violin, Gael Abbasi, violoncello, and Soh Lee, piano and fortepiano.
Elizabeth M. Guerriero, Ph.D. currently serves as on the faculties of Rider University (strings) and Montgomery County Community College (strings and orchestra). She has also taught applied violin and music education courses at the Westminster Choir College, University of Denver, and Penn State University. Dr. Guerriero presents at the SAA, ASTA, PMEA, and MENC conferences regularly, while keeping an active performing schedule in the Philadelphia area. She performs with the Chesmont Quartet, the MC3 Piano Trio, and frequently in solo recitals on the east coast, including at Elizabethtown College each summer.

Gael Abbasi has lived and performed in the Philadelphia area for many years. Her teachers include, Orlando Cole of the Curtis String Quartet and Janos Starker, at Indiana University in Bloomington, Indiana .She was a founding member of Strings for Schools, Inc, now Musicopia, an organization which provides vibrant educational adventures in music, in the schools and communities of the Greater Delaware Valley. She is also a founding member of String Variations, a commercial music business. She has performed at the Kimmel Center, Carnegie Hall and the Mann Center. She has taught at Immaculata University, Kimberton Waldorf School and the Baldwin School. In the summer, she is a chamber music coach at Vermont Music and Arts Center in Lyndonville, Vermont (vermontmusicandarts.org). Aside from performances in the Chesmont Quartet , she is also in MC3 Piano Trio.

A native of Seoul, Korea, Dr. Soh Lee completed her DMA in piano performance at Rutgers University. While attending Rutgers University, she performed for Bridgewater Concert Series of the Mason Gross School of the Arts and Kirkpatrick Chapel Concert Series and was a winner of the South Orange Symphony Artist Competition in New Jersey. Dr. Lee has often appeared as a soloist and accompanist for the Afternoon Music Club of Phoenixville, Pa and performed as a guest artist at West Chester University. She performs recently with MC3 Piano Trio that was formed as an extension of Montgomery County Community College in 2013. She is currently a faculty member of Montgomery County Community College and Ursinus College, Pa. With a life-long commitment to church music, she presently is pianist at Pughtown Baptist Church, Pa.