Laurel Hill Mansion is
open for the 2018 season
Thursday - Sunday from
10:00 A.M. to 4:00 P.M.
Admission is $ 8.00
Children under 12 free admission
WHYY members who purchase one admission will receive the second one free.
Laurel Hill Mansion is a Blue Star Museum. Active-duty U.S. military personnel and their families are welcome free of charge Memorial Day weekend through Labor Day weekend.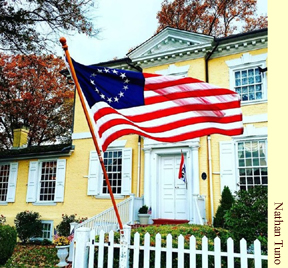 Informative tours providing the opportunity to learn about the rich history of Philadelphia and this historic mansion are included with the price of admission.
Please contact us prior to visiting:
(215) 235-1776
Event Dates
click on the event date for more information
See our events page for a full list of activities at Laurel Hill Mansion.



Laurel Hill Mansion
Randolph Dr
East Fairmount Park
Philadelphia PA 19121
215 235-1776
Your donation will help the Women for Greater Philadelphia preserve Laurel Hill Mansion and support the educational and cultural programs held there.

Women for Greater Philadelphia
510 Walnut Street, 16th Floor
Philadelphia, PA 19106